Inside the JH Moto Jacket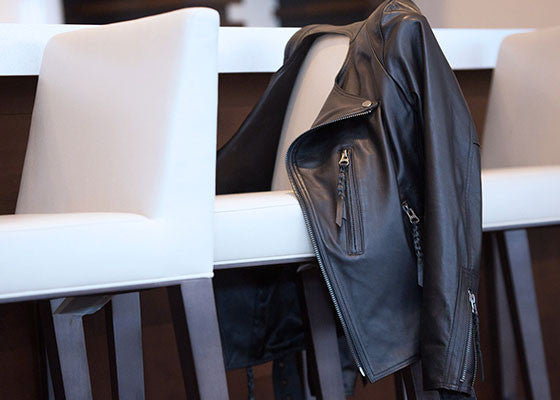 I'm an accessories addict and have been since I was a little girl.  Your accessories are what makes your outfit and ensure a killer forever lasting first expression. Bags, shoes, jewelry and of course jackets are all you need to express yourself.  For me, my beloved blue jeans, crisp white tee styled with the my mini bohemian bag is my go to look.  Being raised in the Northeast, studying in FL and living in LA for 5 years post college made leather jackets my go-to year rounder.  A leather jacket was like my coat of armor that went with anything and took even my gym clothes to a trendsetting level.  For years I've been adding styles to my handbag collection and for the last two fall seasons I've been wishing I would just take the leap and draw up my dream moto jacket.  One that is cool enough for the "off-duty" model to rock, trendy enough for our favorite bloggers and influencers to hang from there shoulders and timeless enough that the three generations of style, daughter, mother & grandmother can all wear while still expressing their individual style.
After attending the ACE Awards Gala last week with my new moto jacket design over my Black Tie gown and seeing the most glamorous women of all ages in the same ballroom rocking her black tie sequin gown and topping it off with her own leather jacket, I knew others share my belief that moto jackets can truly take you anywhere.
This design has checked off every box on my dream jacket checklist.  A shoulder pad for the structured shoulder addicts like myself, gunmetal hardware, zippers and pulls, a belted waist and attention to every last detail.  It wouldn't be a Jennifer Haley jacket without including the signatures that I am known for. The X stitching from my handbags were added via an X stitch down both side seams and my two strand braid pulls are featured on all 6 zippers.  This jacket also has a belt with its back sections sewn into the jacket seam so you never have to worry about it sliding through - edgy yet practical!  I'm so excited about my very first jacket launch and hope you are too!
4 Responses
Leave a comment
Comments will be approved before showing up.